Want to visit the best Mayan Ruins near Tulum? You've come to the right place because this article will highlight them all for you, including the Tulum Ruins, which are located right in the city itself.
For visitors who want to see the rest of the ancient ruins, you'll want to consider renting a car in Tulum and driving, as some are quite remote. The best part of visiting these off the beaten path sites is that you might have them all to yourself — which makes for an unforgettable experience.
Mayan Ruins Near Tulum
No matter how you go, with a group tour or on your own, no visit to Tulum is complete without seeing some of the Mayan Ruins. Ready to discover the Top 10 best Mayan Ruins near Tulum you'll want to add to your itinerary? Let's get to it.
To get to Tulum you will fly into Cancun International Airport. You can rent a car and pick it up at the airport, or wait until your reach Tulum. Compare prices here. If you want to book transport from the airport to Tulum, this private transfer will meet you upon arrival and take you in comfort to your hotel in Tulum.
1. Tulum Mayan Ruins
The Tulum Ruins are actually located in Tulum, so you'll absolutely want to check them out while vacationing in Tulum. They are located right on the beach, overlooking the gorgeous Caribbean Sea and the white sand beach below.
Compared to other ruins sites in the Yucatan, the Tulum Mayan Ruins are small. However, it's one of the most beautiful ruins in Mexico thanks to its privileged location on the cliffside.
Inside, you'll see the Templo del Viento (Wind Temple), Templo del Dios Descendente (Temple of the Descending God), El Castillo (The Castle), and Templo de Los Frescos (Temple of the Frescoes). There is a designated pathway to walk along, so if you follow the path, you won't miss a thing. This guided tour takes you through the archeological site followed by a visit to Cenote Chen Há and Mariposa cenotes.
You can tour the entire site in about one hour, but try to visit early in the day because there's no shade and it gets very, very hot. One of the best things about the Tulum Ruins is that you can head right down to the beach after visiting and jump in the sea.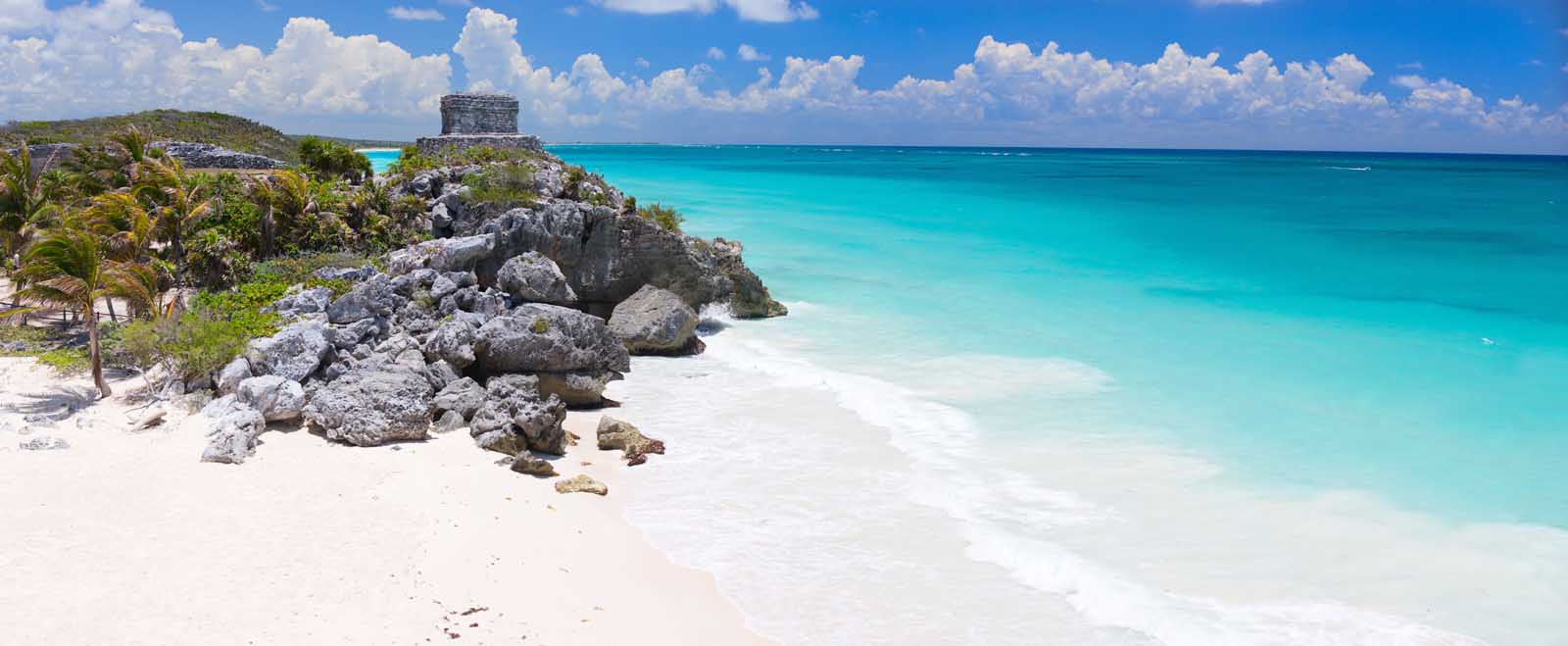 There is a staircase leading from the ruins to the beach below. (Note: Depending on the tide, the staircase is sometimes closed.) This beach cove, known as Tulum Ruins Beach, is one of the nicest beaches in town — so don't forget your bathing suit when visiting the Tulum Ruins.
Entry to Tulum Ruins is only $80 pesos ($4 USD), and there are guides you can hire at the entrance gate if you want to have a pro show you around. The signs here are in Spanish, so this is something worth considering if you can't read Spanish.
Address: Carretera Federal, Cancun – Chetumal Km 230, 307, 77780 Tulum, Q.R., Mexico
2. Chichen Itza Mayan Ruins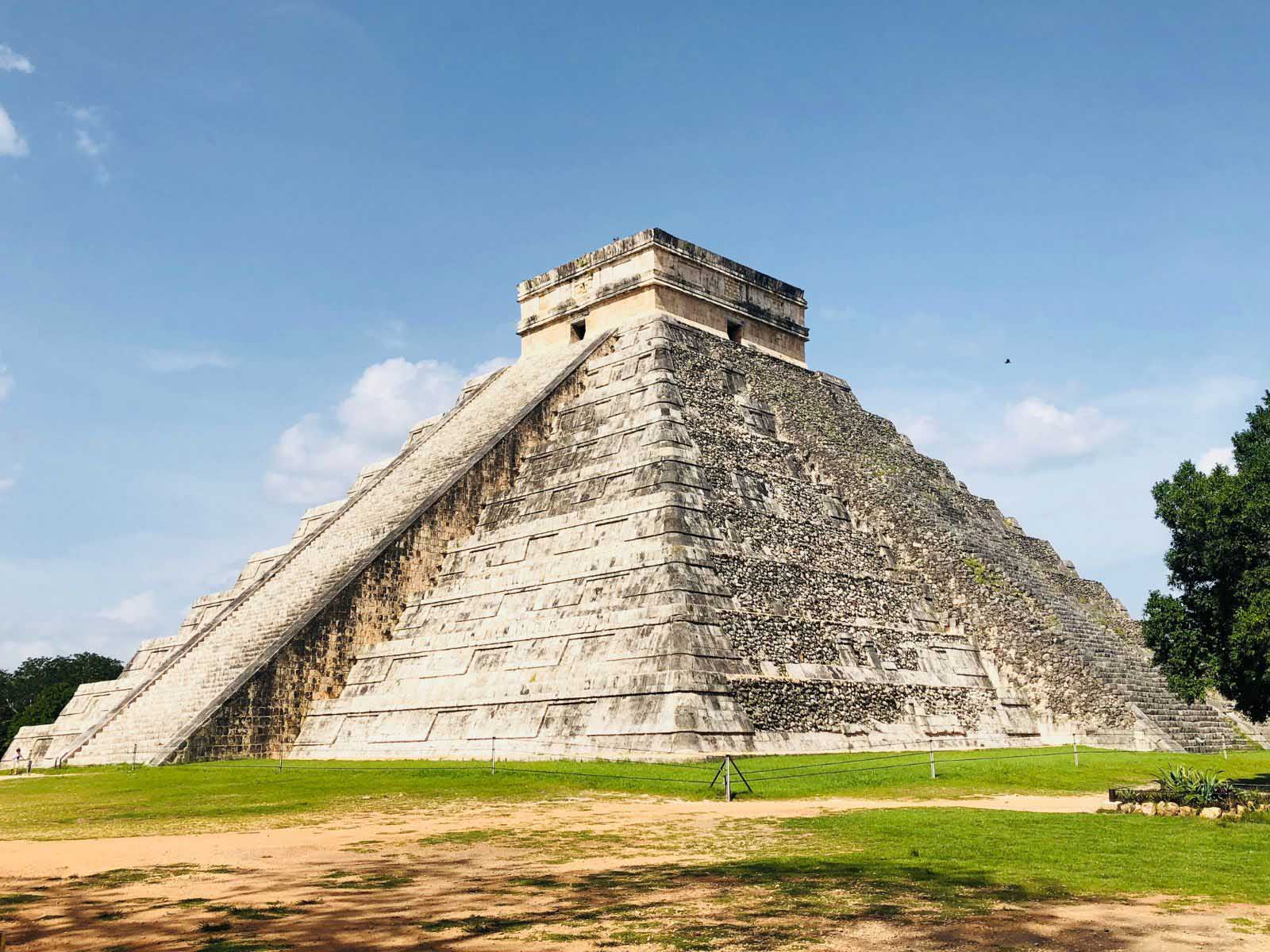 Chichen Itza Mayan Ruins is one of the New Seven Wonders of the World — so it likely doesn't need much of an introduction! It is also one of the two most-visited ancient ruins in Mexico; the other is Teotihuacan near Mexico City, and they both see about two million annual visitors.
From Tulum, you can drive your rental car, take the ADO bus from downtown Tulum to Chichen Itza, or join a tour. The drive takes about 2-2.5 hours.
While you can enjoy some ruins without a guide, Chichen Itza really is the place to hire one. As one of the most fascinating places on Earth to learn about the Mayan culture, you'll want an accredited guide to explain all the hidden meanings and symbols you'll see, the historical significance of the structures, how they were used by the Maya, and more.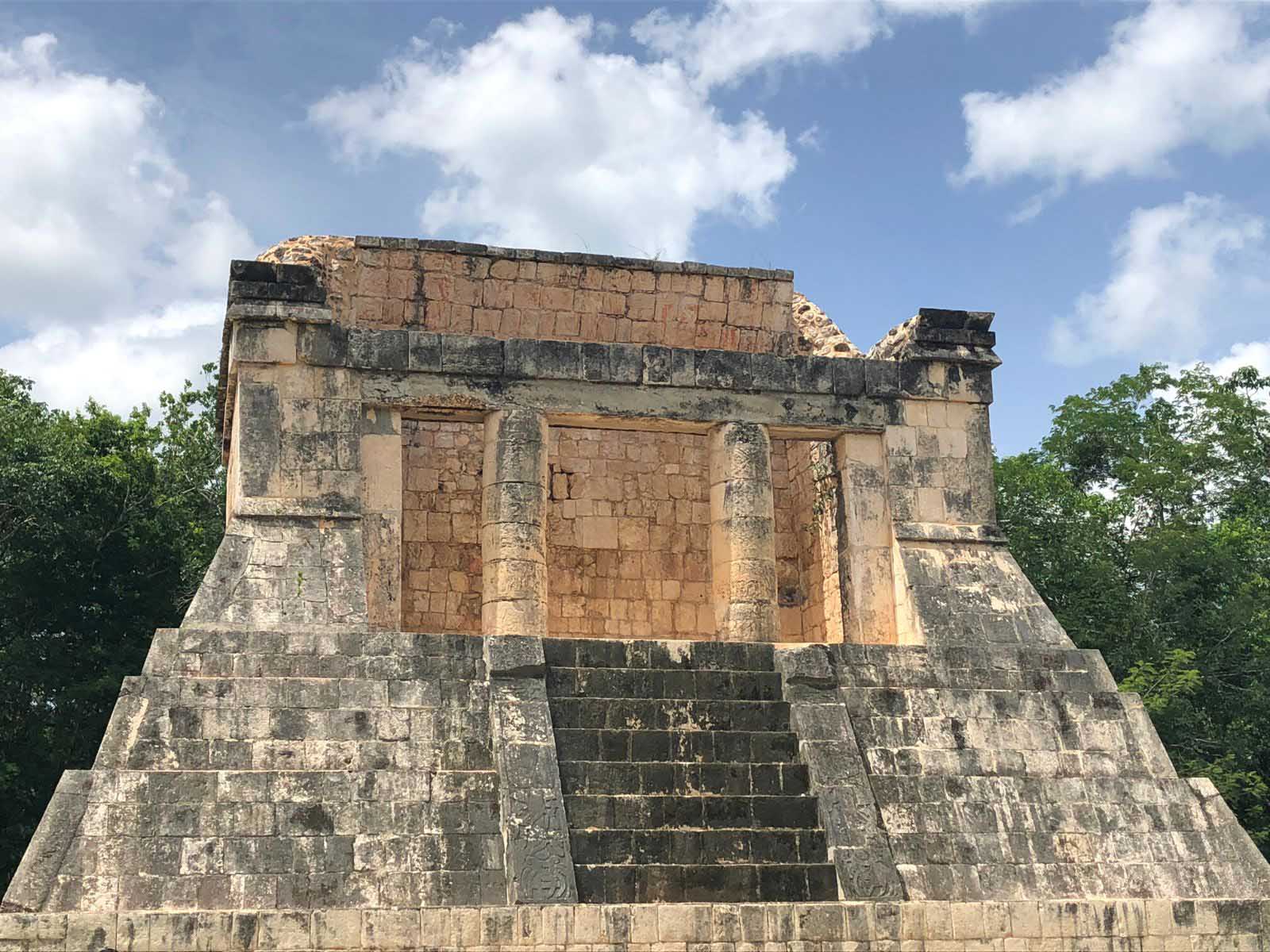 At Chichen Itza, there are several large Mayan pyramids and even more of the smaller (but still unique) structures to see. It is a large site at about four square miles (10 sq. km.), so plan to be there for at least three hours if you want to see everything.
Upon entering Chichen Itza, you first see El Castillo, which means "The Castle," and is also called the Temple of Kukulcan. This is the Chichen Itza pyramid you'll see in most photos of the site, and one of the largest of all pyramids in Mexico.
There's also the Temple of the Warriors, The Observatory, Group of a Thousand Columns, Great Ball Court, The Nunnery, Sacred Cenote, and more. In total, there are 20 groups of buildings, and each has a few structures to see. Get your skip the line entrance tickets in advance. No matter what time of day you arrive, you can beat the crowds and walk right on into one of the New Seven Wonders of the World.
3. Coba Mayan Ruins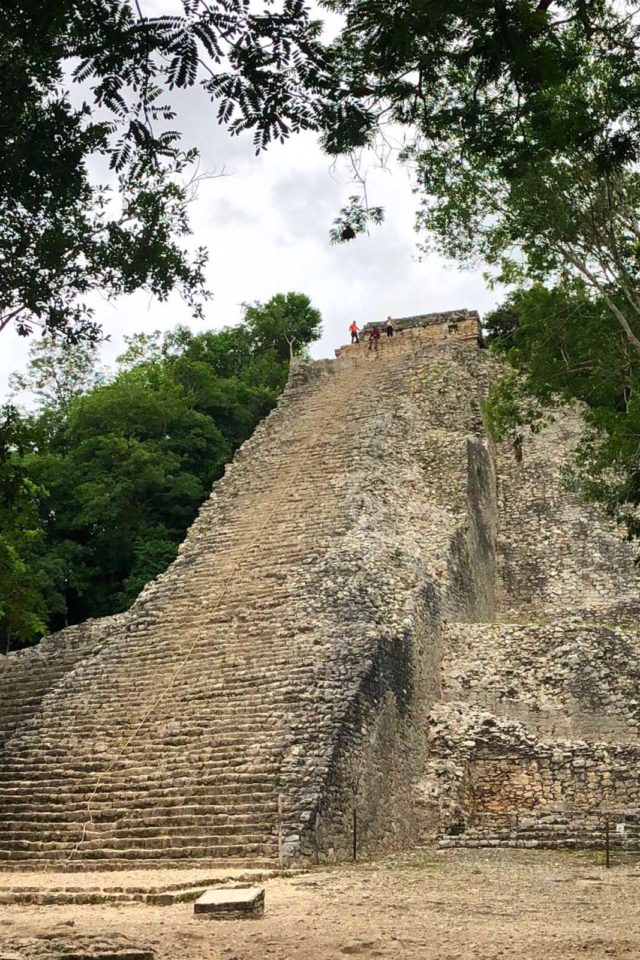 Want to climb some of the Mayan Ruins? Then you'll have to head to Coba Ruins, located about one hour from Tulum, deep in the jungle. You can also book a day tour that includes Coba and Tulum pyramids. Enjoy a guided tour that includes a buffet lunch and a swim in a Cenote as well as time to explore Playa del Carmen. See more details here.
Coba has the tallest pyramid you can climb in Yucatan, Nohoch Mul Pyramid (sometimes called Ixmoja), which stands 137-feet-tall (42 m). There are 120 steps to the top, and it's a steep climb, but the views of the Mayan jungle from the top are worth it.
Besides Ixmoja, which is located in the Nohoch Mul Group of structures, there are other clusters of buildings throughout Coba. These include the Chumuc Mul Group, Coba Group, and Macanxoc Group.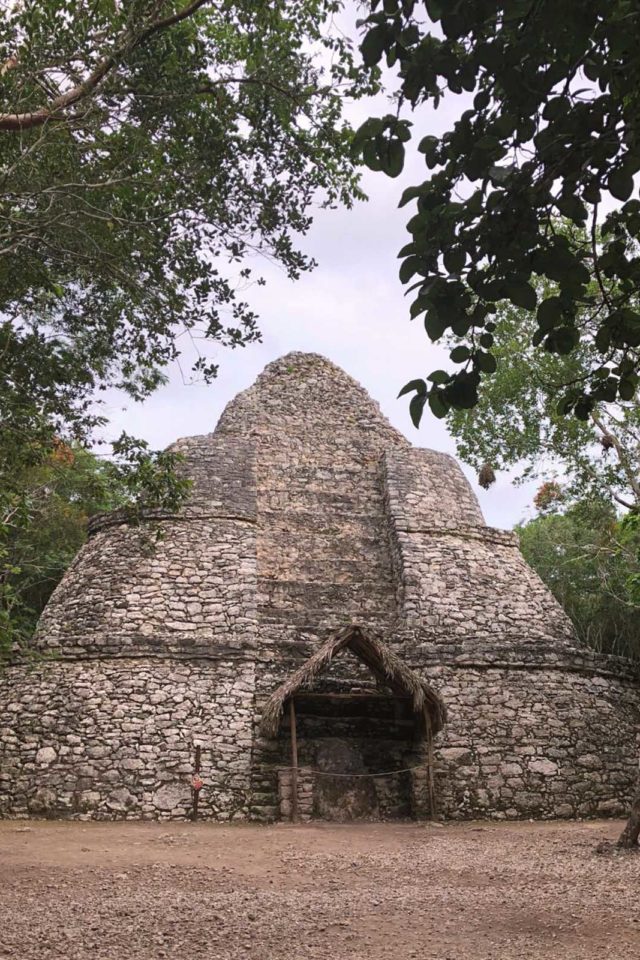 Coba is a large site, and many visitors rent a bike at the entrance gate so they get to see it all. Bike rentals are about $5 USD for two hours. You can also walk, or hire a taxi tricycle at the entrance where someone else will give you a bike tour of the entire site, as you sit back and relax.
Address: Coba archaeological site, 77793 Q.R., Mexico
4. Muyil Mayan Ruins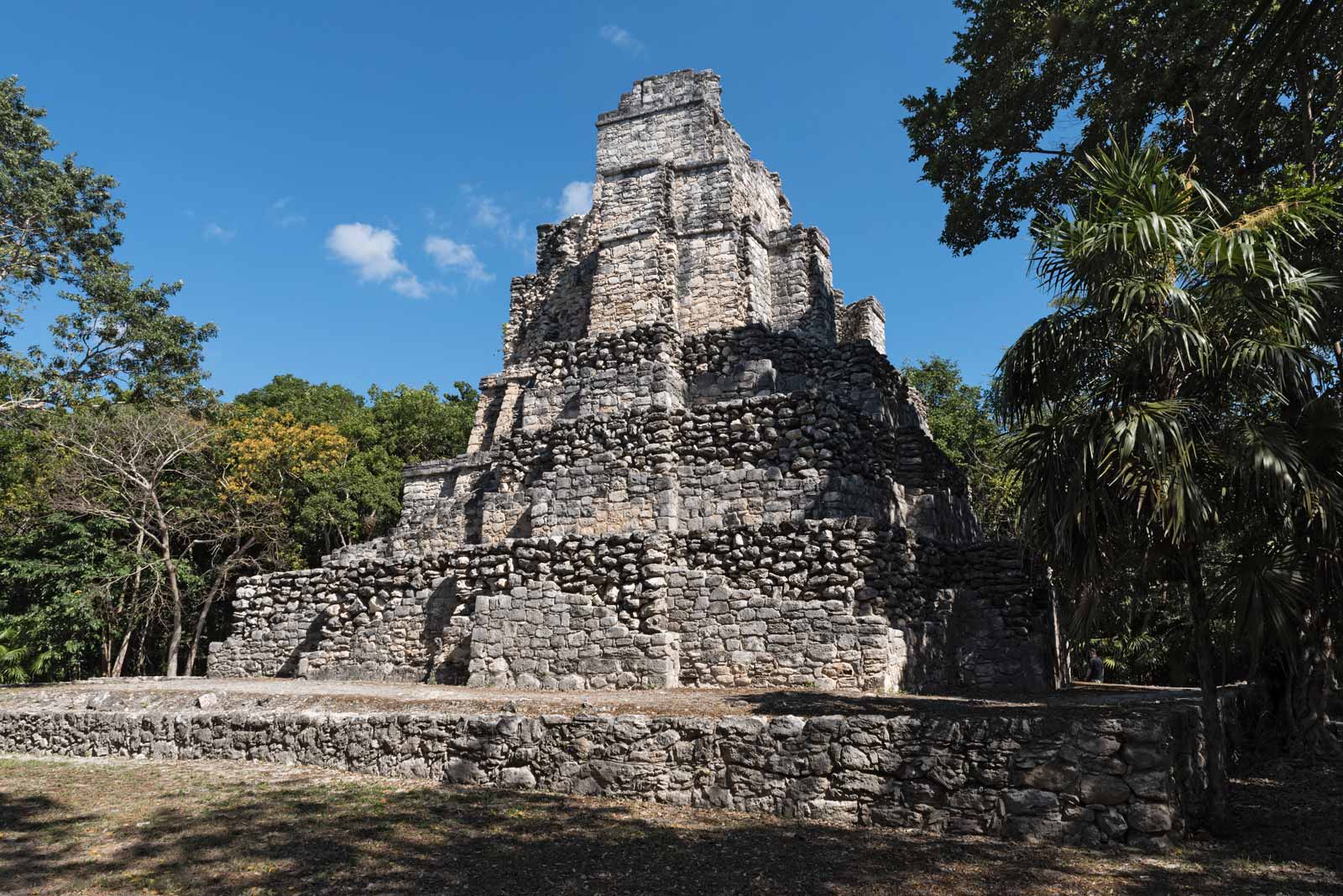 Muyil (pronounced moo-yeel) is located just south of Tulum in the small town of Felipe Carrillo Puerto. It is in the one-million-acre Sian Ka'an Biosphere Reserve, a UNESCO World Heritage Site, and one of the largest protected areas in Mexico.
The Muyil Ruins are located not far from the Tulum Ruins, though these two sites look totally different. At Muyil, you'll see the Peten architecture style. The steep-walled pyramid here is similar to the ruins at Tikal in Guatemala, the most famous Peten site in the world.
Though not far from Tulum, it takes a while to get there by car because the road to Sian Ka'an is quite rugged (and much better suited for 4X4s than compact cars). In fact, in the rainy season months, it's not uncommon for the road to be washed out completely. For this reason, most visitors go to Muyil on a tour.
There are boat tours through the Sian Ka'an which include a stop at Muyil, as well as some very cool tours called float tours. With these, you put on a life jacket and float through the waters of the Sian Ka'an Biosphere Reserve, visiting all the top areas along the way, including Muyil Ruins.
This day tour from Tulum takes you to the Maya archaeological site of Muyil and the UNESCO Biosphere Reserve of Sian Ka'an. It includes a boat ride to Muyal Lagoon and includes a picnic lunch and an expert guide.
Address: Reforma Agraria-Puerto Juárez km 25, 77710 Chunyaxché, Q.R., Mexico
5. Ek Balam Mayan Ruins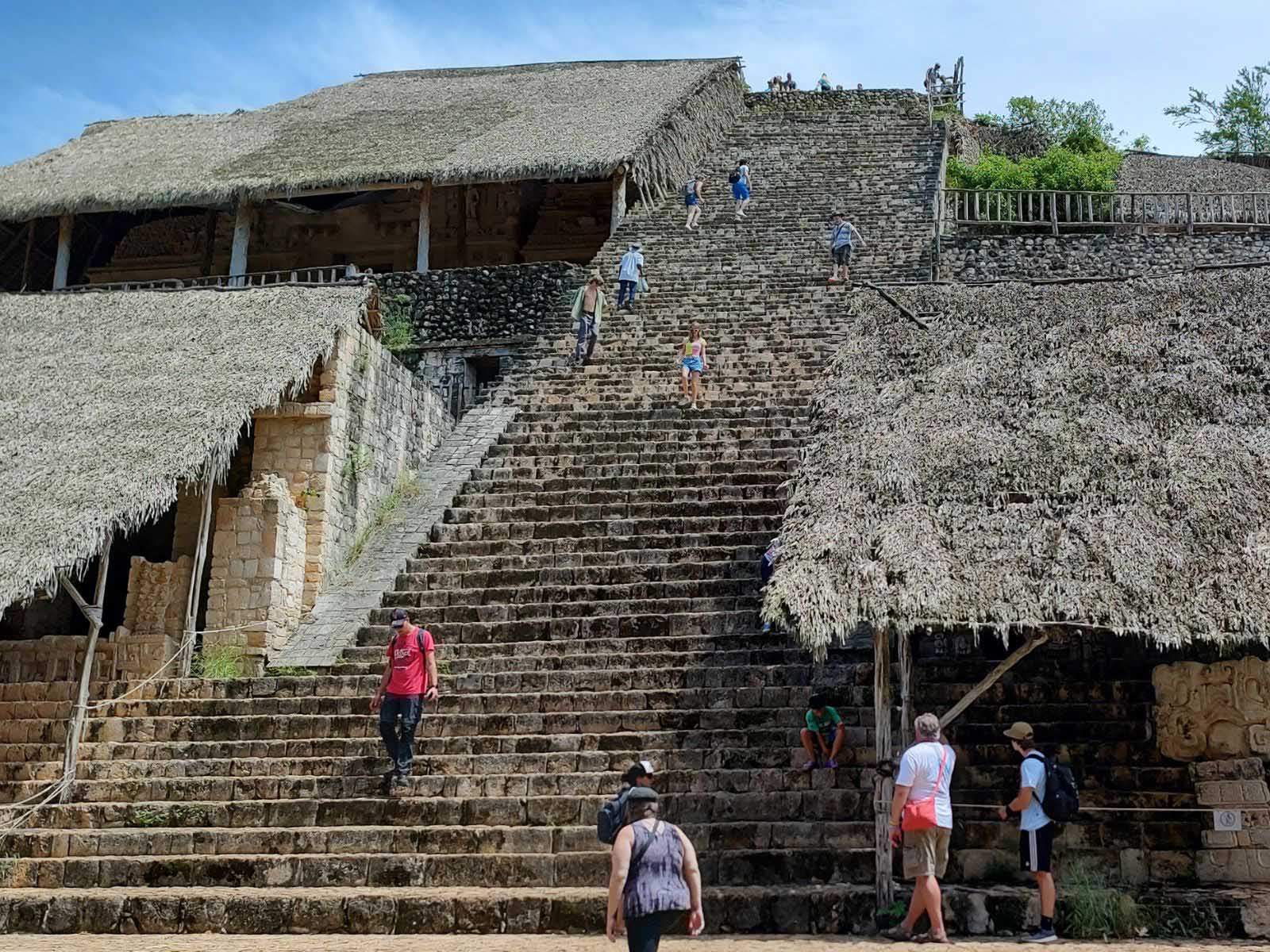 Ek Balam means "Black Jaguar" in the Maya language, and there is a beautiful jaguar temple here which you won't want to miss. It is located at the top of the Great Acropolis, the tallest pyramid at this site.
From the top of the Great Acropolis, you'll get some spectacular jungle views. Though it can be scary at times, since there's no handrail to hold onto, the climb is worth it for the views alone — plus the jaguar temple is at the top of this pyramid, and you won't want to miss that either.
To get there from Tulum, the easiest way is by rental car. The drive takes about 1.5-2 hours. You can go by public transport but the trip time will double, as there are no direct buses.
For those renting a car, you can turn this into a nice day trip. After exploring Ek Balam, head to the nearby town of Valladolid. This is one of the Mexico pueblos magicos, which means "magic towns."
Valladolid is a charming and colorful colonial town. It makes the perfect place to eat lunch after visiting Ek Balam, and you can also go for a refreshing swim in one of the nearby cenotes, like Cenote Oxman, Cenote Saamal, or Cenote Zaci.
6. San Gervasio Mayan Ruins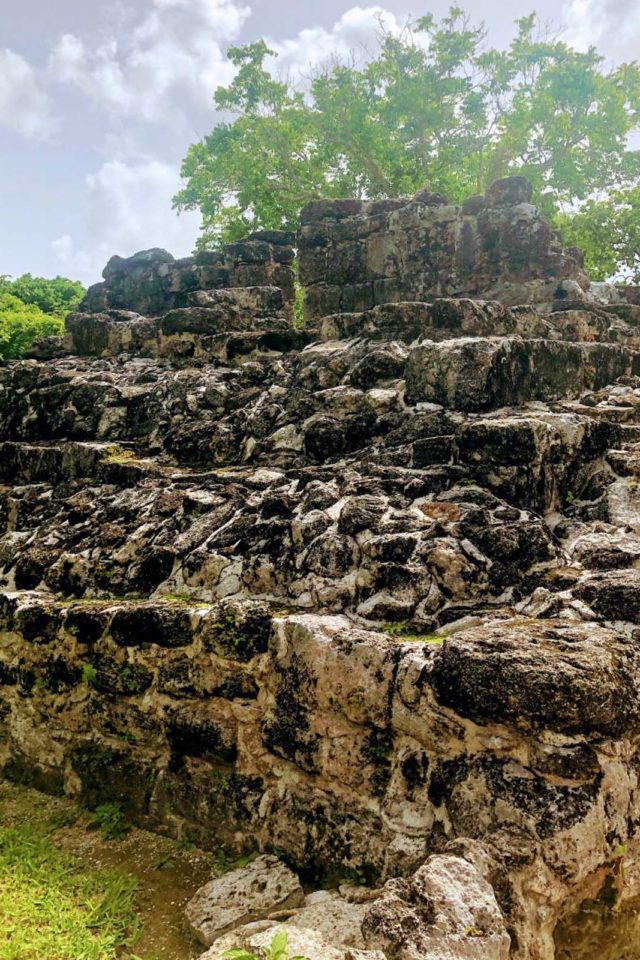 San Gervasio is located on Cozumel Island. To get to Cosumel from Tulum, you'll first need to make the one-hour drive to Playa del Carmen by rental car or bus. Then, you'll take the 40-minute ferry ride to Cozumel. San Gervasio Ruins are located in the center of the island.
Though a smaller site, there are plenty of things to see at San Gervasio, the only Mayan Ruins on Cozumel Island. The highlights here include the Templo Nohoch Nah and the Templo Ka'na Nah de Ixchel, which are connected to one another by a series of roadways called "scabes."
As it's a bit of a trek from Tulum, consider spending the whole day on Cozumel. It is known to have some of the best snorkeling and diving in Mexico, as it's so close to the Mesoamerican Barrier Reef — the second largest in the world, after the Great Barrier Reef near Australia.
7. Temple of Ixchel Ruins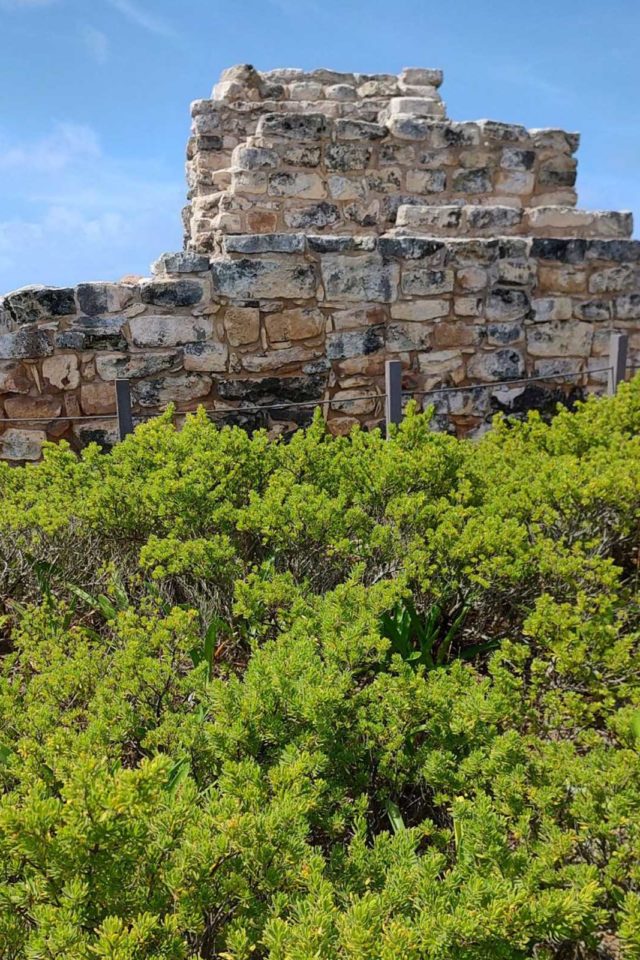 The Ruins of Ixchel (pronounced ick-shell) are located on Isla Mujeres. This Caribbean island is located just off the coast of Cancun, and a favorite among Yucatan visitors.
These ruins are on a cliff that overlooks the Caribbean Sea. It is the highest elevation point in the Yucatan Peninsula. For this reason, some historians say it functioned as a lighthouse, not a ceremonial center, though you may hear it called the Temple of Ixchel.
Isla Mujeres, which means "Island of Women," got its name because the Spanish Conquistadors found so many statues of the Mayan goddess Ixchel all over the island. Ixchel is the jaguar goddess that's associated with the moon, fertility, childbirth and medicine.
To get there from Tulum, you'll first make the two-hour drive to Cancun by rental car or bus. Then, you'll take the 20-minute ferry ride over to Isla Mujeres. The Ruins of Ixchel are located on the southern tip of Isla Mujeres at Punta Sur Eco Beach Park.
8. Chacchoben Mayan Ruins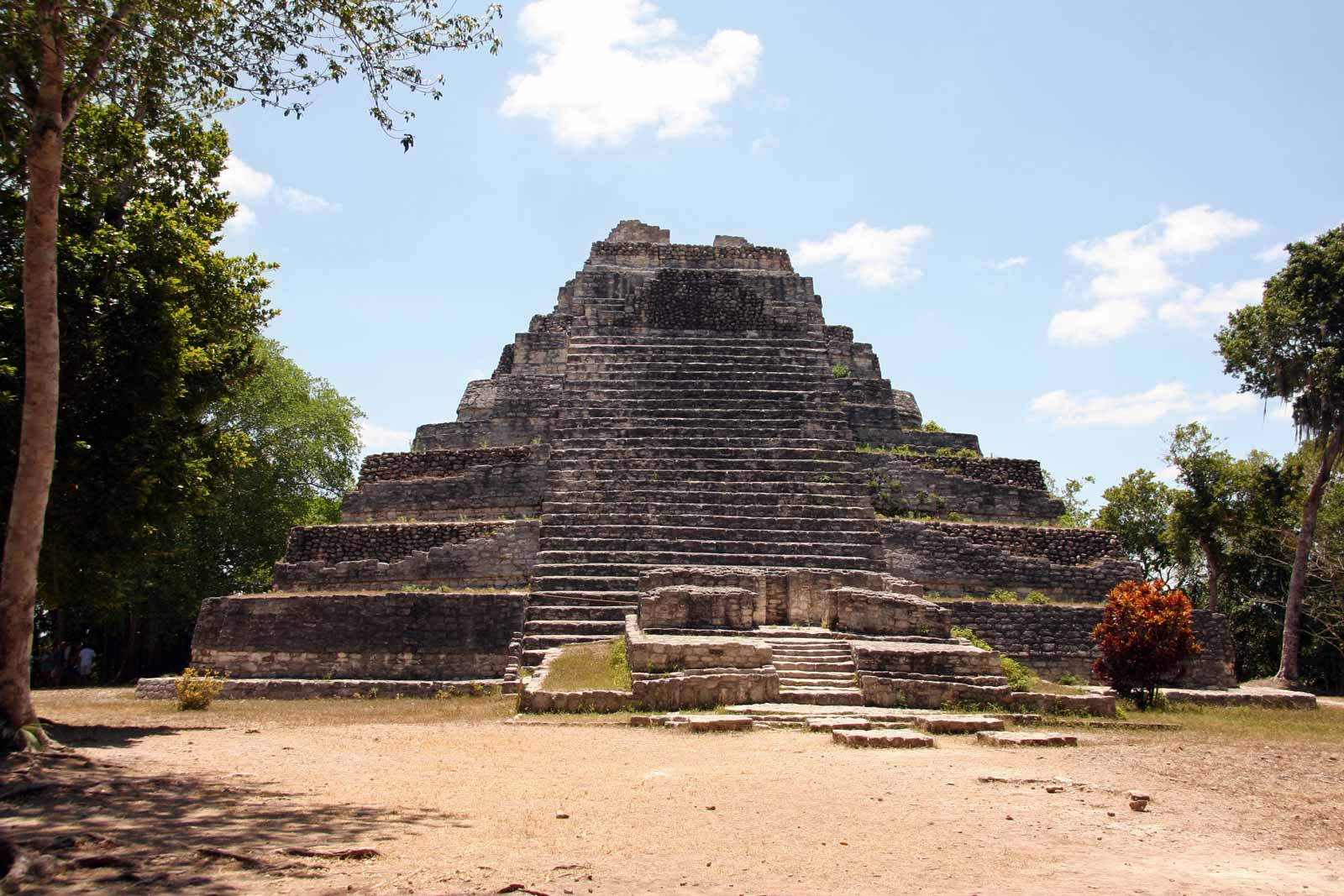 Chacchoben (pronounced cha-cho-ben) is located about two hours south of Tulum by car. There are no direct buses, and a taxi would cost about $100 USD (or more) round-trip, so it's best to visit in your rental car.
Chacchoben is one of the best Mayan Ruins in Costa Maya, meaning the "Mayan Coast." It is located near Mahahual, Mexico, a popular cruise destination and beach town. When there are ships docked, you can expect a lot of other visitors at Chacchoben, but on non-ship days, you may have the place all to yourself.
There are two groups of structures to see at Chacchoben Ruins, as well as three excavated, restored pyramids. Inside the largest of the three pyramids, you'll see Mayan hieroglyphic writing!
As Chacchoben is located deep in the Mayan jungle, expect to see roaming iguanas and maybe even some spider monkeys. With the monkeys, even if you don't see them, you're very likely to hear them howling off in the distance. 
From Chacchoben, you're also only about 30-45 minutes from Bacalar, Mexico. This pueblo magico (magic town) is home to Lake Bacalar, AKA the Lake of Seven Colors. This is the second-largest freshwater lake in Mexico, and known for its gorgeous blue waters.
9. Uxmal Mayan Ruins (UNESCO World Heritage Site)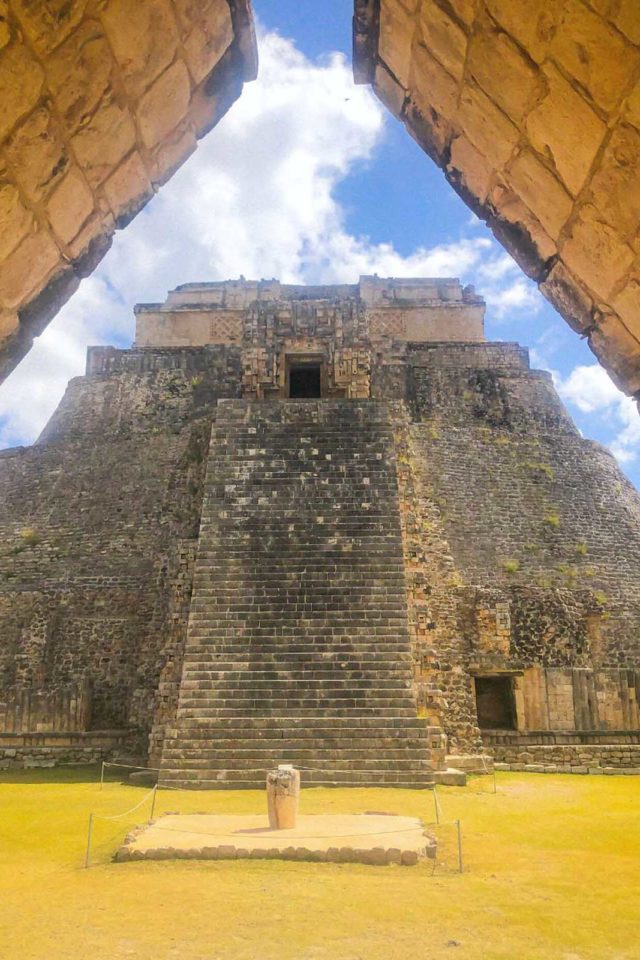 In full disclosure, Uxmal (pronounced yoush-mall) is located a bit far from Tulum at five hours by car. However, many will say it is the second-most important Mayan site in the Yucatan, after Chichen Itza Ruins.
Like Chichen Itza, Uxmal is a UNESCO World Heritage Site. However, unlike Chichen Itza, it is never overrun with tourists, so you get all the history, majesty and wonder — but significantly smaller crowds and no souvenir vendors harassing you.
For those who want to experience true Mayan history and architecture in the most authentic way possible, opt for Uxmal. It sees only about one-tenth as many annual visitors as Chichen Itza, so it's a much more pleasant experience.
Upon arrival, you're greeted by the tallest pyramid in Uxmal, which is called El Adivino, or The Pyramid of the Magician. Visitors can't climb El Adivino, but there are other structures where climbing is permitted.
Located just next to El Adivino, you can climb the Great Pyramid at Uxmal. Though it's not an easy climb to the top of this or any of the Mayan Ruins on this list, you are rewarded with the most amazing jungle views from the top.
You can also climb to the top of several other Uxmal structures, like the House of the Birds, the House of the Turtles, and the Nunnery Quadrangle. While exploring, take note of the intricate carved stone designs on these buildings.
This is known as the "Puuc" esthetic, and you can also see it in other ancient ruins sites near Uxmal. Though the most famous, Uxmal is actually one of five sites in the area which are all located on the Ruta Puuc, or Pucc Route. The others are Kabah Ruins, Xlapak Ruins, Sayil Ruins, and Labna Ruins.
10. Dzibilchaltún Mayan Ruins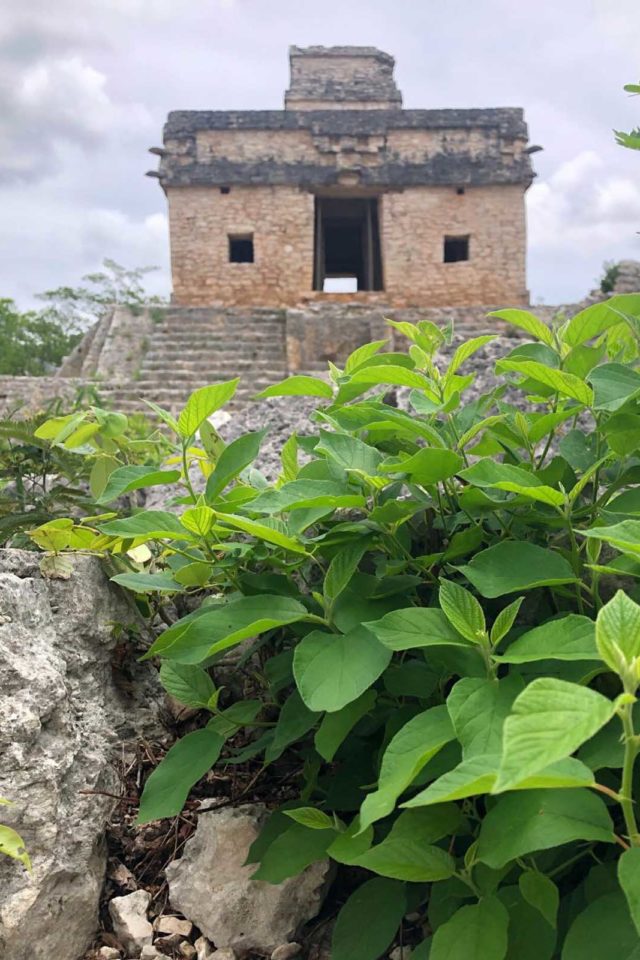 Dzibilchaltún (pronounced zee-bee-shall-tune) is located about 3.5 hours from Tulum by car. It is the closest Mayan Ruins to Merida, Mexico, one of the most up-and-coming destinations in Yucatan — so you'll definitely want to check out Merida if you're visiting Dzibilchaltún Ruins.
Though there's only a few Mayan Ruins here, there's also the onsite Dzibilchaltún Museum with large Mayan art pieces and artifacts, a small Mayan Sculpture Garden you can walk through, and a cenote to swim in.
Cenotes are sinkholes or jungle pools, and the perfect places to cool down after a long, hot day of climbing Mayan Ruins. At Dzibilchaltún, you'll find Cenote Xlacah. This is what's called an open cenote or swimming pool cenote, as it looks like a natural swimming pool.
The most important structure at Dzibilchaltún is the Temple of the Seven Dolls, sometimes called the Temple of the Sun. While you can't climb here, there are some other structures you can climb towards the back of the site near the cenote (pronounced sen-no-tay).
If you happen to be visiting during the Spring and Autumn Equinoxes, definitely add Dzibilchaltún to your itinerary. On only these two days of the year, the sun passes directly through the center of the square opening in the Temple of the Seven Dolls for a truly awe-inspiring site.
Wrap-Up: Best Mayan Ruins Near Tulum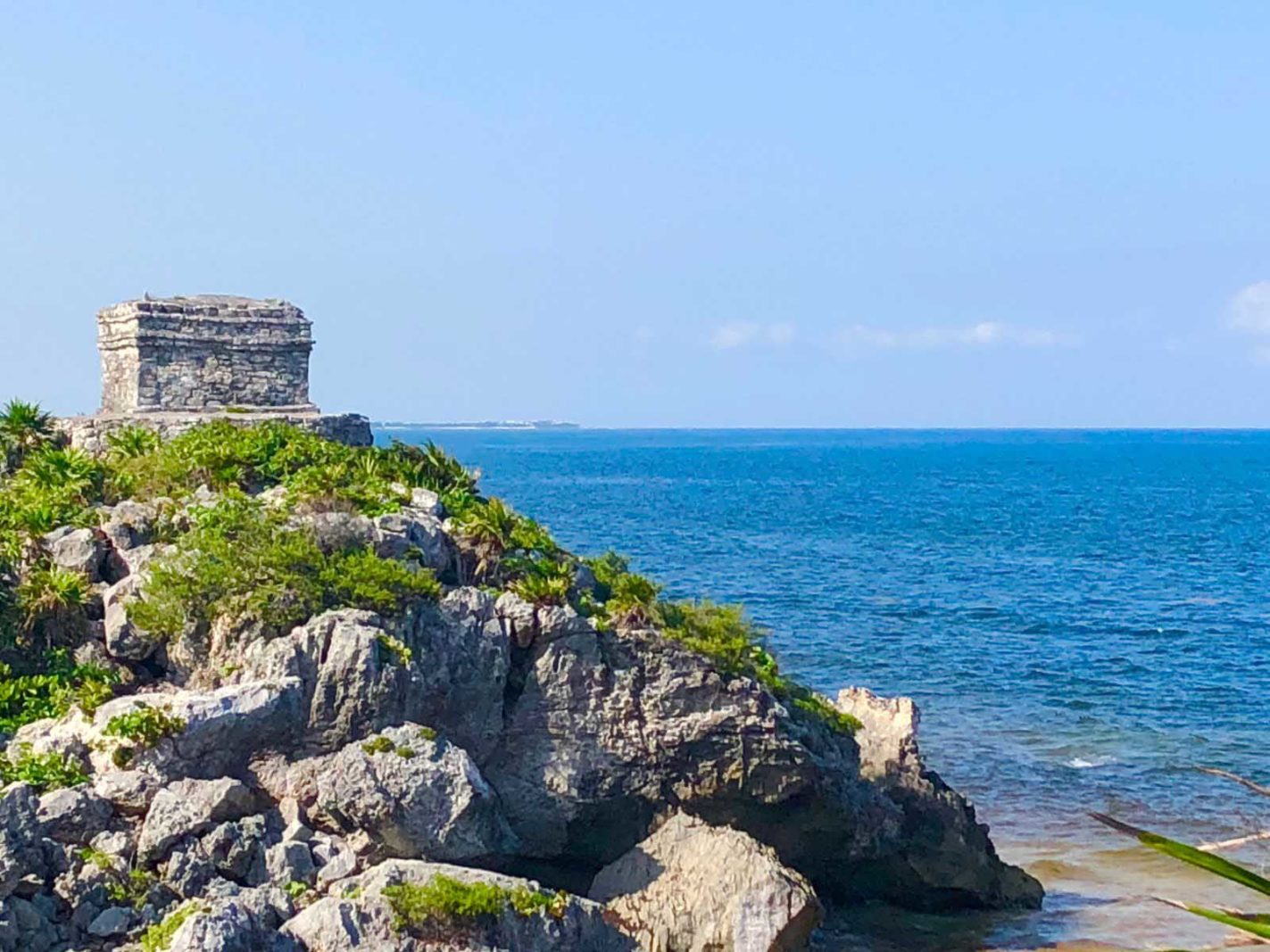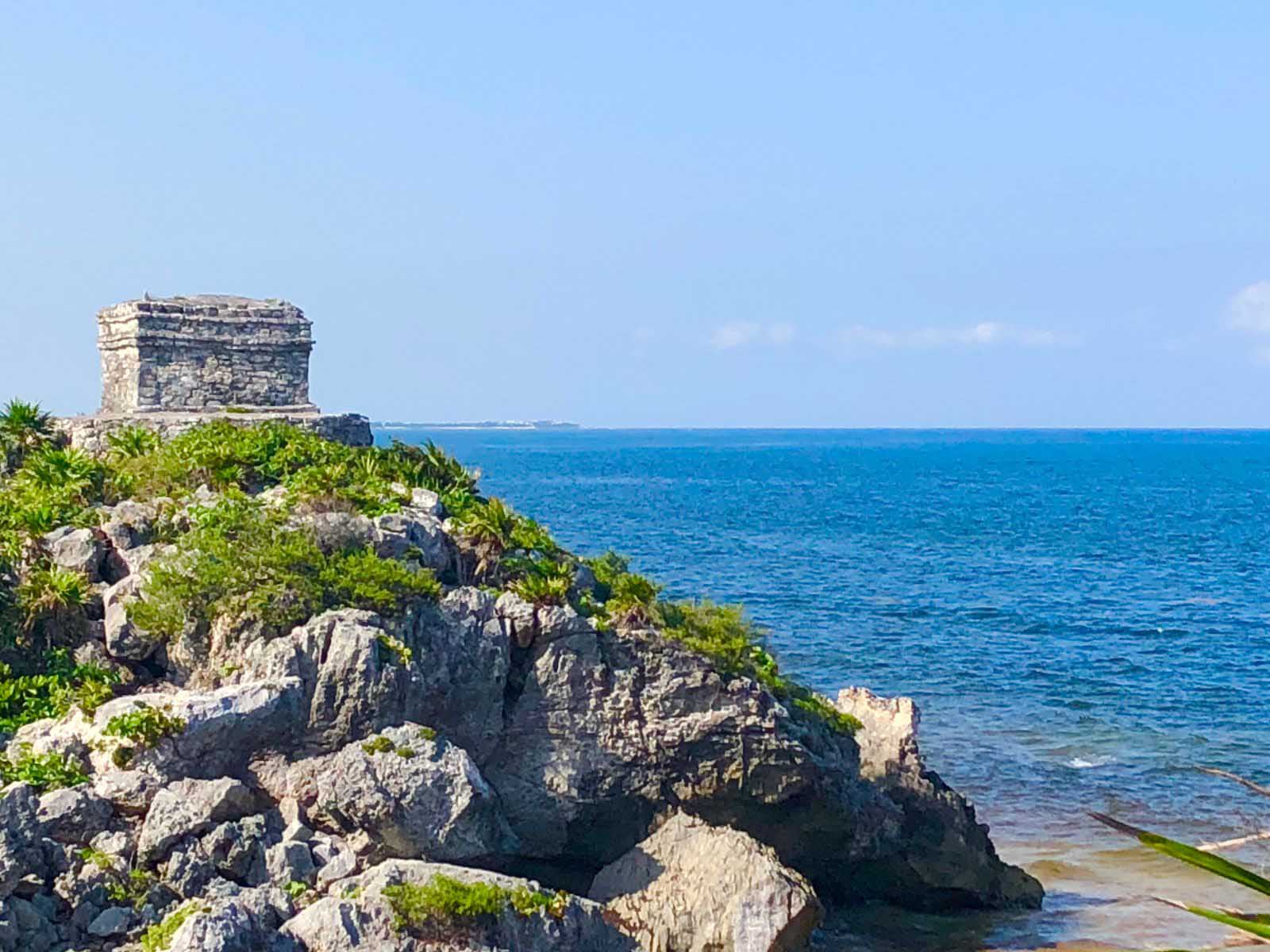 There's no shortage of Mayan Ruins to check out in the Tulum area, or in Mexico's Yucatan Peninsula. In fact, some might say there are actually too many options.
If you're overwhelmed, here are the cliff's notes in a bulleted list to help you decide where you want to go while you're visiting Tulum, Mexico.
Closest Mayan Ruins to Tulum: Tulum Ruins, located in the Tulum Archaeological Zone on Tulum Beach, and within city limits. 
Must Visit Ruins Near Tulum: Chichen Itza, one of the Seven Wonders of the World, and among the most-visited places in Mexico.
Mayan Ruins You Can Climb: Coba is the closest place to Tulum with a pyramid you can climb, and it's the tallest pyramid in Yucatan!
Best Off the Beaten Path Ruins Near Tulum: Ek Balam is perfect for those who like venturing off the beaten track (but not too far off).
Most Beautiful Ruins Near Tulum: Muyil has one of the most beautiful pyramids in Mexico. Its Chunyaxché Pyramid has a look similar to the famous Tikal Mayan Ruins in Guatemala, the largest Mayan city ever discovered.
No matter the site you choose, it's always an unforgettable experience to visit ruins in Mexico. Which place on the list caught your eye the most? Which ones are on your bucket list? Let us know in the comments below.